KKUI Menswear China's emerging trend men's brand, founded in 2009, is a subsidiary of Guangzhou 5842 Apparel Co., Ltd., 5842 is a product design and development set production, sales, planning in one innovative clothing company, located in Guangzhou 1850 Creative Park , Like other creative companies in the park, will be the fashion show industry behind the show.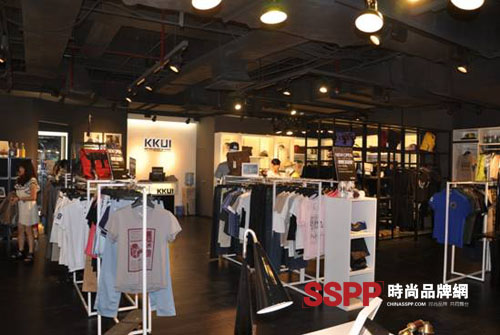 He KKUI睽睽 fashion men's Guangzhou King Plaza image store upgrade opening
KKUI brand is Knight (Sir); King (king); Ultrafashionable (extremely pursuing fashion trends); Idol (darling) four English abbreviation, subtle interpretation of KKUI outlined gentle sagacious wise, handsome fashion The four images of your fantasies, full-fledged trendsetters and spoiled beauty are also presented by KKUI as a modern young group's passion for fashion trends and passion for understanding, as well as the concept of diversity and style. The KKUI brand has always been rich in style and fashionable style, and is divided into four series to meet different classes or ethnic groups. Most of them love self-fitting, with practical, fashion, fashion, and personality shaping as the general direction. Dress demand, popular trends from the England region to sweeping Asia, Japan, South Korea and Hong Kong local trends readily available. KKUI is not an original and independent standard to guide the trend. It is more about reorganizing and diversifying the trend, so that young consumers can sit outside the door and wait for the season's popular funds to easily enjoy. In addition to the popular elements of the season, KKUI's image in each season reflects the youth group's reunion colors, and also advocates the young people's fashion and lifestyle.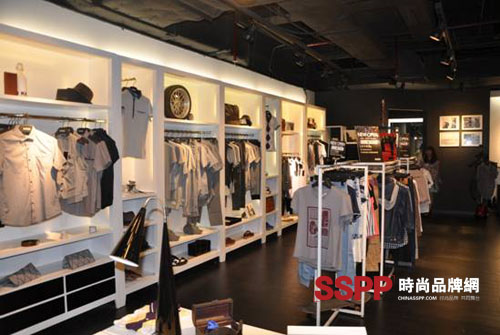 He KKUI睽睽 fashion men's Guangzhou King Plaza image store upgrade opening
KKUI睽睽 fashion men's brand is willing to create the most dynamic men's fashion brand in China.

KKUI睽睽 fashion men's brand positioning target group: 18-36-year-old male, willing to accept new things, pay attention to the dress, reflecting his unique temperament. Suitable for different types of temperament consumer groups: urban 80-90 white-collar workers, the pursuit of exquisite son of the buddy, pay attention to the individual taste of the stable Wenwen boys, with the mix and match of the personality type of the family, the new type of cream-flavored cute boys. Representing the future trend of young people's dress development, it will meet the mainstream audience and be able to reflect the trend guidance to a certain extent. Product family positioning advantage elegant gentleman series; prince style series; popular mashup series; youth boys series diversified, multi-style, multi-occasional design concepts to meet different types, not the pursuit of regional customer groups, can truly reflect the trend of KKUI brand by customers To achieve the design concept.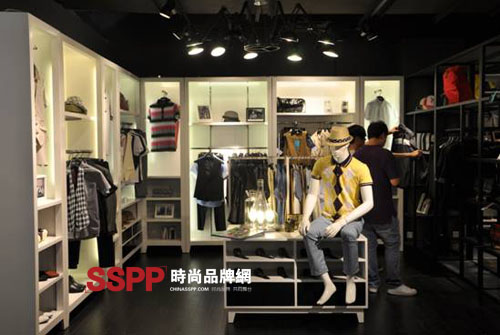 He KKUI睽睽 fashion men's Guangzhou King Plaza image store upgrade opening
KKUI睽睽 睽睽 睽睽 睽睽 睽睽 平民 平民 平民 平民 平民 平民 平民 平民 平民 平民 平民 平民 平民 平民 平民 KK 平民 KK KK KK KK KK KK KK KK KK KK KK KK KK KK KK KK KK KK KK KK KK KK KK Express priority reflects the trend of fashion, diversified multi-series selection.

KKUI睽睽 Fashion Men's Brand Promotion Advantage Since its establishment, KKUI has used its unique concept of matching to play each season's product image, combined with online promotion, outdoor publicity, and the image of terminal stores, to promote brand image and promote brand concept quickly.
1. Use a photograph of a local landmark
Tap into your customers` local pride by including a photograph of a local landmark. Just make sure you take the photograph yourself or have the photographer`s permission to use it.

2. Or use artwork from a local artist
If your town has a well-known local artist, try reaching out to them to see if they`re willing to let you use their art. They might appreciate the exposure, and your customers will love having something beautiful to put on their fridge.

3. A list of emergency phone numbers
Having a list of emergency phone numbers on the fridge is a great idea, but many of us (the author included) forget to actually print them out and hang them up. Include numbers for local hospitals, police stations, and useful emergency hotlines. Your customers will snap them up.

4. A series of quotes
Create a series of magnetic business cards with different quotes on them. You could choose inspiring quotes, funny quips-whatever reflects your personality and company brand. Then simply let your customers choose the card that brings a smile to their face.

5. Cooking references

Create a business card your customers will reference again and again by including handy information. You could try a chart showing some common cooking measurement conversions, a list of in-season fruits and veggies, or a chart of ingredient substitutes.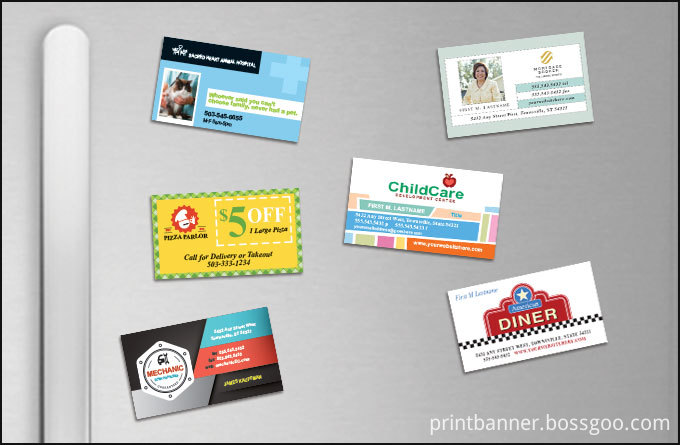 Business Card Magnets,Magnet Fridge Sticker Card,Magnet Card Sticker Advertising,Custom Magnet Business Card
Anhui LiSheng prinbanner co.,Ltd , https://www.anhuiprintbanner.com