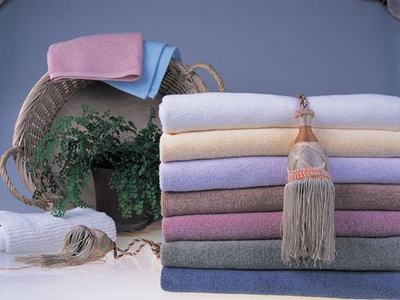 In 2013, the market pattern and product structure of home textile products also changed quietly, and the brand competition has entered the era of product competition and price competition.
Cloth: Fierce competition in the domestic market: talent + experience China curtain fabric companies mostly exist in the form of wholesale and foreign trade. In 2013, due to the difficulty of foreign trade, some curtain fabric companies that mainly sell products have begun to turn their attention to the domestic market and have integrated fabric products into the overall design of interior soft furnishings. Borrowing the successful experience of foreign trade to open up the domestic demand market has become the same choice for cloth companies in 2013.
Trend 1 chasing domestic talents for cloth arts In 2012, China's cloth arts enterprises built strong forces to open up the domestic market, and effective expansion of the domestic demand market became the top priority for 2013 corporate work.
In order to win market opportunities and seek breakthroughs in the domestic market, Guangdong Zhida Decoration Products Co., Ltd. 2013 new product launch time moved forward. At the press conference, the general manager of the company, Chen Jinxi, said: "Today, the pattern and competitive environment of China's national textile industry have undergone profound changes. The focus of domestic market competition is also moving forward along the corporate value chain and winning the battlefield. After being pushed into the smoke-filled sales terminal, who can control the sales terminal, anyone will find a path to create corporate value.How can we find a path? I think the key is to have a good terminal sales team and it is It is a team with strong conviction, intelligence and courage, and capable of advancing the war."
Hangzhou Aike Home Textile Co., Ltd. has always been known for the individuality and diversity of its products. Domestic sales are also an important market for Ai Ke Home Textiles. Ai Ke home textile chairman Xiang Shuwen believes that the crisis is both a danger and a difficult, but also an opportunity, both to bring pressure on the company, but also to bring impetus. In the final analysis, the competition of enterprises is the competition of talents. Can not only develop without maintenance, to break through the marketing model of staking their claims, highlight the status of talented people, can overcome difficulties.
Trend 2 borrows mature foreign market experience For a long time, cloth companies in China have accumulated valuable experience in dealings with foreign distributors. As these companies connect with international mature markets, they are more mature and standardized than domestic sales companies in terms of product quality control, packaging, and development and design, and are more adaptable to international trends. In terms of unity, standardization, and refined product integration capabilities, exporting companies may have more advantages. Moreover, exporting companies do not have traditional domestic sales burdens, and they are more flexible in adapting to industry trends and adopting advanced business models and methods.
Wu Ruming, general manager of Haining Hengli Fabric Co., Ltd., said that in 2013, the home textile fabric export enterprises must first change their experiences and concepts accumulated in the past. "In general, exporting companies serve foreign brands or middlemen for a long period of time and do not directly face consumers. They have insufficient ability to grasp consumer needs and tastes. The products are of good quality but lack marketing means. Actually, many times, It's not just technology and quality that consumers buy, but brands and services."
Wei Zhonghua, chairman of Zhejiang Zhonghua Home Textiles Group, said that the current owners are more and more inclined to be simple in the decoration style, especially the younger owners prefer the simple and warm decoration style, and the curtains play a big role. "Now domestic curtains, whether Chinese style, European style or Mediterranean style, have fabric products that can be matched in the market, which can not only create an overall decorative style, but also make the houses look warm and inflexible." Wei Zhonghua In 2013, it is necessary to develop a domestically marketable fabric product that is marketable, not only to boldly innovate, to absorb the experience of mature markets in foreign countries, but also to cater to the changing tastes of consumers.
Bedding: Through the improvement of management channel construction trends: Brand + E-Commerce In 2013, with the fierce market competition, it is expected that some enterprises with poor operating conditions will be eliminated. Faced with the phenomenon of surplus in the industrial market, bedding companies have clarified their own market goals and tried to expand the market, build brands, and make products go further.
Trend 1 Strengthening brand management is the key In 2013, home textile bedding company's attention to the brand has reached an unprecedented height, not only in the brand name, brand image to do enough homework, and put in a dedicated force to carry out brand awareness, brand reputation and continued dissemination . Home textile companies are gradually moving toward a full branded business.
Wu Zhensheng, chairman of ZheJiang Kafu Home Textiles Co., Ltd., said that brand building is a complicated system project and it is not just a name. "Over the years, many home textile brands have passed through meteors like flashes. Relying on creativity or relying on huge amounts of advertising can sometimes make products famous. However, if quality fails to keep up, management cannot keep up, and a sudden crisis, brands may not have. "." It can be said that the brand is a comprehensive manifestation of the level of business management and product quality.
From the seller's market to the buyer's market, the branding of home textile companies began to be on the agenda, and the increased awareness of consumer brands has further increased the urgency and necessity of strengthening the management of domestic textile brands.
Li Jian, general manager of Fujian Garis Home Textiles Co., Ltd., said: "The Purchasing Guide is the best spokesperson for the product. Only if the Purchasing Guide understands the product and loves the product can it seamlessly connect with the customer's needs; 60% of the value of the product comes from the package, including the service. Concepts, publicity, and a series of links must be different from each other; pricing must be good at tapping product selling points, refining added value, and avoiding price wars; promotion is a double-edged sword, and the primary purpose of promotion is to win product reputation. Instead of increasing sales, the power of the brand is at the heart of the law. A good brand often has a complete development plan and follows the established plans at every step of the way. It is an important guarantee of success."
Trend 2 e-commerce has become the strategic commanding height With the rapid development of the Internet industry, online shopping has been favored by many consumers due to its advantages of convenience and convenience. In 2013, the terminal channel of bedding companies will also complete the migration of e-commerce from offline terminals to online e-commerce. In particular, online shopping will attract mainstream women and white-collar workers. With the continuous improvement of quality of life, the demand for bedding will continue to increase. Strong, will make the home textile e-commerce industry this year's sales easily exceeded 10 billion yuan mark.
Bdker (bdker) is a brand new bedding and home textiles brand sales platform jointly created by Geng Shang Youpin (Beijing) Technology Co., Ltd. and Geng Shang Youpin (Hong Kong) Industrial Co., Ltd. Buddhism General Manager Liu Zhongming said: "Budou's originated from my concept of integration of e-commerce and durable consumer goods. Thanks to the three-year planning experience of media companies in Hong Kong, I realized that the future of China's e-commerce industry will be unlimited. A prospect of expansion and development.At this moment I met an angel investor who had been producing bedding products for more than a decade but could not break through the bottleneck of traditional sales channels. So we decided to establish a bdker brand and started the platform together. "
Looking at the huge business opportunities of e-commerce, the official shopping site of the Feather Bedding Co., Ltd. was also successfully launched in 2012. The official shopping site focuses on the retail market, and the distribution range can even reach some second and third-tier cities.
"We expect that our retail e-commerce system will continue to grow steadily and rapidly in 2013. We have already had 16 years of experience in e-commerce operations. The biggest advantage of e-commerce is that it's beyond." Geographical restrictions can serve users in all regions, while at the same time allowing consumers to avoid the hassle of carrying large packaged goods themselves and enjoy the high-end bedding products delivered directly to home."
Towels: Close to people's lives to win market trends: width + public welfare China's towel entered the era of brand winning. As a daily consumer product, towels can be regarded as one of the fastest-selling home textile products. In 2013, faced with huge market potentials and opportunities at home and abroad, large towel companies have expanded their market share by creating an overall home concept. Smaller towel companies have won brand reputation by doing specialized and refined products.
Trend 1 Creating an Integral Home Concept In 2013, Vosges Home Textiles created a wide range of products, including bathroom and bathroom series, bedroom series, kitchen and dining room series, outdoor leisure series, gift series and decorative series, reflecting the brand's breadth and professionalism. The overall concept.
"The small towel home adheres to the low-cost, high-grade design concept. Vosges has developed a series of products such as the PIMA cotton series and the Egyptian cotton series to meet the needs of different consumer groups. The integrated method is based on colors. The main line, the pattern collocation, item collocation, the purpose of integration is to make the entire product line seamless, organic integration, clear classification, rich items, the overall competitiveness." Vosges Home Textiles Co., Ltd. Shanghai Sales Li Xiaohong introduction, " The overall home concept focuses on the integrated design concept.The integrated content includes the product's color and pattern, the product's items, and the combination of the two.Furthermore, the home design of Vosges Home Textiles is the guiding concept.Change the single towel cleaning The function appeal has shifted to the concept of home style as the orientation, integrating the towel design into the home style, fully embodying the consumer experience of beautifying life."
Zhejiang Jieliya Textile Group Co., Ltd. has developed into a large-scale integrated group company with a wide range of industries including underwear, socks, household goods, real estate development, etc., with its home textile products such as towels as the core industry. It owns Zhejiang, Hubei and Xinjiang. The three major brand industries produce R&D bases.
"As early as 2011, Jieliya completed the development and marketing of five series of products including the towel series, underwear series, socks series, underwear series and stockings series. Jie Liya opened a new chapter of 'category extension strategy'; in 2012, Jie Liya The building and promotion strategy of Liya Stores has matured, bringing personal care to consumers from quality to operation mode and winning market recognition; in 2013, Jie Liya invested 2.5 billion yuan to build the world's largest towel production base in Xinjiang. The first phase will be put into trial production, and Jieliya will join forces with distributors across the country to create 'China's towel industry leader brand' and 'China's first brand of intimate cotton products'." Sales of Zhejiang Jieliya Textile Group Co., Ltd. Ministry of Shi Lei said.
Trend 2 joined hands with strong public service marketing In 2012, China's most popular folk entertainment program was "China's Good Voice". In addition to the players' high-profile attention, advertising sponsors also became the subject of discussion after dinner. The towel industry's leading brand, Jie Liya, participated in the whole process and interacted with the audience in the form of Weibo interaction. He also presented the audience and the enthusiastic netizen's generous Jie Liya gift box to establish the "China Good Towel" brand in the hearts of consumers. Image.
2013 will be a strong year for towel brands to market through multiple media. At this time, the brand of towels frequently appears in the mirror, and the brand is deeply rooted in the hearts of consumers. Compared with popular brands such as celebrity endorsements by consumers, towel companies sponsoring or naming popular programs and participating in public welfare can achieve better and broader publicity and win the position in consumers' minds.
In 2013, the "2013 Towel Brand Summit" organized by Yongliang Towel Textile Co., Ltd. will be held in Beijing Diaoyutai Museum in April. Then Phoenix TV host Chen Luyu will serve as the host and guest of the conference.
Duan Liang, general manager of Yongliang Towel Textile Co., Ltd., said that Chen Luyu established a good public image with her elegant smile and won the audience's favorite. This is in line with the brand image of Yongliang Towel's "eternal quality, bright life". At the 2013 Towel Industry Brand Summit Forum, Chen Luyu will work with the relevant government leaders, industry leaders and other guests to focus on the brand, industry-oriented, regional strength as a peak of dialogue. At the same time, Yongliang and Chen Luyu jointly launched the "Warm Children" welfare institution donation plan.
"The welfare institution donation program is a long-term and sustainable public welfare activity. The first stop we donated was the Tangshan Children's Welfare Institute in Hebei Province. Chen Luyu and Yong Liang joined hands in public welfare undertakings. This is a good opportunity for both sides to achieve mutual benefit and win-win results. With the best combination of public welfare, we hope that Yongliang Towels can give a warm touch to the community and the needy groups through their own modest strength. Of course, they also hope that more businesses with philanthropy, charity, and charity ideas can work together to make public benefits. The society is full of care and full of warmth." Duan Liang said.
The Kids Footwear collection of JNPFOOTWEAR emphasize in safe and comfortable.
Most of our kids footwear export to Europe and America markets, so all the materials should pass the test. It not only about test itself, as parents , we also want our kids to wear safe kids footwear, so we pay more attention about this part.
Comfortable is another part, we pay more attention on , cause ,kids foot haven't grown up, so they need more foot arch support, so we also pay more attention about that part.
Also kids should have a colourful and happy childhood, so we also hope our kids footwear is colourful and funny for kids. So we make new styles every years ,especially new colour ,materials for our kids footwear collections.
If you have any comments of our kids footwear collections, feel free to let us know. Your comments are always precious for us.
Kids Footwear
Children Footwear,Child Footwear,Shoes For Girls,Children Shoes
YANGZHOU JNP IMP.&EXP. CO.,LTD , http://www.jnpshoes.com